Join UTS Library from 25- 29 October to celebrate Open Access at UTS with an exciting program of events that will help you better understand Open Access in action and how you can use it to enhance your teaching and research.  
Exploring Open Access at UTS  
Building upon the international Open Access week theme of structural equity, Open Access at UTS will examine topics in the open education and open research areas, exploring how we can make diversity, equity and inclusion the founding principles for unlocking knowledge at UTS.  
Join us online for a series of expert panels and workshop events in collaboration with the LX Lab. Click the image below to view the schedule and register for events.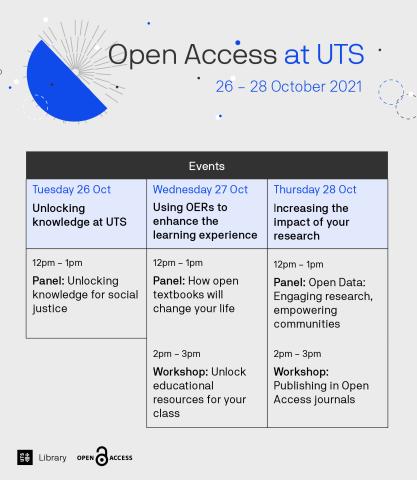 Unlocking knowledge for social equity 
Utilising Open Access in your teaching and research is a very practical mechanism you can adopt to deliver positive social change and demonstrate your commitment to social equity. Explore the benefits of unlocking knowledge at UTS and the crucial role academics and researchers play in demonstrating we are truly an inclusive university. 
Using Open Educational Resources (OERs) to enhance the learning experience for your students 
Learn how using free, openly licensed teaching and learning materials reduces study costs for your students and removes some of the barriers they experience to accessing course content.  
Get practical directions on how to find Open Educational Resources (OERs) and how to embed them in your course effectively. 
Increasing the impact of your research 
Find out how to harness the potential of open research data to increase the impact and reach of your research and your citations. 
Want more?