While we've made it our priority to ensure you have access to library resources online while you've been studying from home, you've told us that reliable wifi and safe, quiet study spaces are something you've missed. 
From Tuesday 5 October, you can book a seat for a day of individual study in the UTS Library or UTS Reading Room with fast wifi, sunlight and a change of scenery. 
Access to Library services and study spaces 
We'll continue to provide you with all the support you need for your studies, both on-campus and online: 
Chat is available 8am to 10pm weekdays, 10am to 6pm weekends. 

On-campus services (including book a seat to study and click-and-collect) as well as phone support operate 10am to 6pm, seven days a week. 
Stay up-to-date on all the latest library service updates and access changes as they evolve, along with the university's response to Covid-19.
Book a seat for a day of study 
When you book a seat, it's yours for a full day of individual study between 10am to 6pm. You'll have access to power, wifi and a quiet surrounds for your study, plus . Student Learning Hub Guides will be on campus to help link you up with resources and support. 
Before you come to campus: 
View: check the floor plans below to find your preferred seat. 
Book: book your preferred desk on your day of choice (bookings commence 5 October). 
Prepare: get any required items ready including:

Your student/staff ID card or ID number. 
Photo ID (license, passport, etc.) with your address. 
Your booking confirmation email.
Proof of double vaccination.

Visit: We look forward to seeing you.
Floorplans
Find your preferred seat for study. To view the floor plans click on the images below to open in full view. 
UTS Reading Room, level 5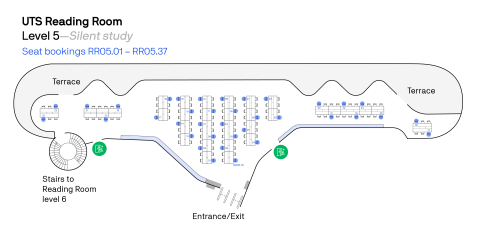 UTS Reading Room, level 6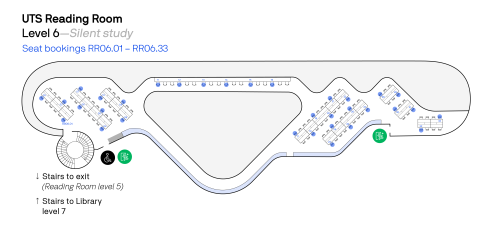 UTS Library, level 7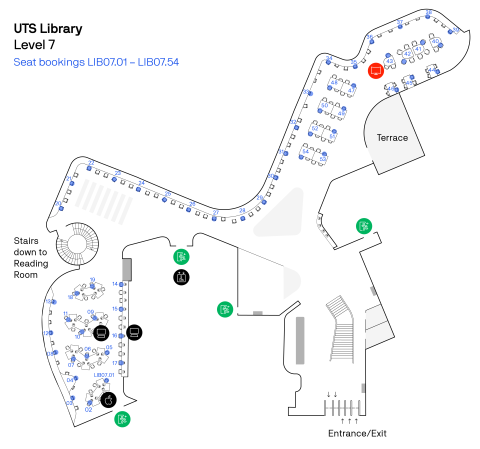 While you're on campus 
Once you arrive at the Library to study for the day, assist us in keeping the campus a safe and pleasant place to study by: 
Swiping to leave and enter throughout the day. 

Wearing a face mask at all times.

Taking calls/classes on the terraces or elsewhere in UTS Central. 

Using click-and-collect service if you need to access the physical collection. 

Leaving the space to eat meals and maintaining a clean space. 

Not leaving personal items unattended. 

Being respectful to staff and others using the space. 
Student Learning Hub Guides will be on-hand to assist you with any queries you might have about using the space, directions, accessing click-and-collect or where you can go to get the nearest coffee.