Why reference
Referencing is an essential part of academic communication, serving these main purposes:
To support claims, arguments, and assertions in your work
To show evidence of reading and research
To give credit to the authors of any material that you have referred to in your work
To help readers find the sources of information you have cited
To ensure academic integrity and avoid accusations of plagiarism
Take the Avoiding Plagiarism quiz to see how much you know about plagiarism.
AGLC referencing style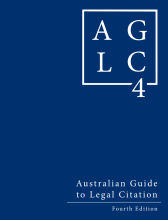 The AGLC (Australian Guide to Legal Citation) referencing style is the standard style used in Australian law reports, legal journals, and legal literature generally. It is currently in its 4th edition and is usually known as AGLC 4th. This is the official style used in the Faculty of Law at UTS.
Online guides
Other resources
Training and support
Chat to the Library online or contact us for assistance with AGLC or other referencing questions.