UTS Library provides a mix of indoor and outdoor spaces to meet your study and research needs. Find room locations, study areas and our collection of books and journals by clicking on the floor plans below. Some spaces require UTS swipe cards to access - details on available spaces for different memberships or public access are available on the Membership and Visiting and Tours pages respectively.
Study spaces and computers on campus
To book an individual or group study space see Room Bookings on the Library website.
For more information on the types of student spaces available in the Library and on UTS campus see Student Spaces on Campus on the UTS website.
For information on computer availability on UTS campus see Find an Available Computer on Campus.
Online Learning Rooms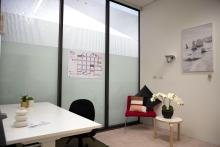 Book an Online Learning Room in Building 7, level 2 (CB07.02) to join your online class while on campus. Each room is equipped with a sit/stand desk, chair, power, and lounge.
Eight Online Learning Rooms are available to students during campus opening hours.
UTS Scholars Centre
The UTS Scholars Centre is a unique study space allocated especially for use by UTS Higher Degree Research (HDR) students to work on their research. The space is prioritised for quiet study and writing. The Scholars Centre is located on level 10 of UTS Central (CB02) and is only accessible via UTS ID swipe card by authorised students. 
The desks and rooms in the Scholars Centre are bookable only by HDR students for up to 6 hours at a time through Room Bookings. The Scholars Centre facilities include: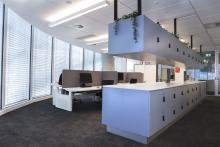 12 desks with computers 
2 quiet rooms with a monitor that you can use with your own laptop (cables not supplied) 
2 meeting rooms (accommodating up to 6 people) with AV 
student printing facilities 
lockers - request access to a locker by filling out the Scholars Centre Locker Application Form. 
Any belongings left on tables overnight will be removed and taken to Lost Property. 
Street Library
The UTS Street Library is located on level 7 of UTS Central (CB02.07) overlooking Broadway. You are invited to borrow or take books, or donate copies that are clean, current, and in a good condition by leaving them on the shelves.
Printing
A UTS ID card is required to print, copy, or scan in the Library or on campus. For information on printing costs, adding money to your card, location of EFTPOS and recharge stations, how to print, student printer locations, and locations of print centres see Student printing on the UTS website.
Lockers
Lockers are available on level 8 of the Library if you need to safely store your items while on campus. Items can be stored overnight and must be emptied by the Library close of the following day
Whiteboards
Mobile whiteboards are located throughout the Library for use in bookable study rooms.
Floor plans
Find room locations, study areas and our collection of books and journals. To view the floor plans click on the images below to open in full view.
Reading Room Level 5
Reading Room Level 6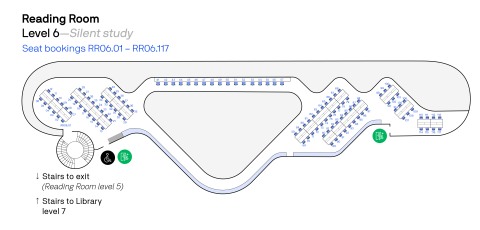 UTS Library Level 7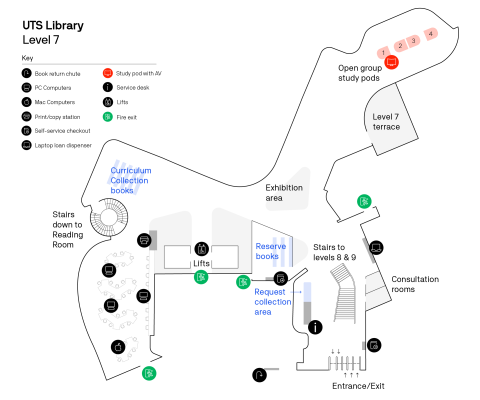 UTS Library Level 8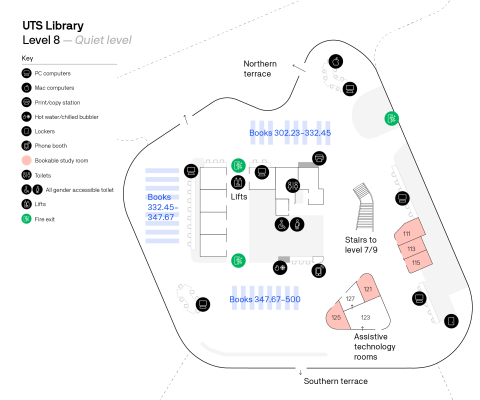 UTS Library Level 9