Chicago referencing style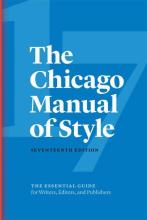 There are two forms of the Chicago referencing style – a footnote version (also called notes-bibliography) and an author-date version. UTS supports the footnote version. For author-date styles, UTS supports APA and Harvard UTS referencing.
Chicago referencing style manual
Guidance on how to write and reference in the Chicago style can be found in the Library's copy of The Chicago Manual of Style (17th edition).
Online guides
Other resources
Mendeley
Mendeley allows you to:
Collect, store, and organise your references and PDFs.
Create citations and bibliographies in over 7000 reference styles, including Harvard UTS, APA and AGLC.
Read and annotate your PDFs.
Collaborate and share your references with colleagues.
Set up
To create an account, go to the Mendeley website and select Create account & Download. 
Add referencing styles
Select Citation Style then More Styles from the View menu in Mendeley Desktop.
From the Get More Styles tab search for a style and select Install.
Common referencing styles at UTS:
APA: search for "American Psychological Association 7th edition"
AGLC: search for "Australian Guide to Legal Citation 4th edition"
Harvard UTS: search for "University of Technology Sydney – Harvard"
Chicago: search for "Chicago Manual of Style 17th edition (full note)"
From the Installed tab choose your preferred style and select Use this Style.
Online guides
Mendeley has extensive guides to help you get started:
See all Mendeley guides, videos and tutorials.
Zotero
Zotero allows you to:
Collect and organise your references.
Create citations in several reference styles.
Export references to MS Word, LibreOffice, Google Docs and more.
Share your research sources.
Set up
Zotero and the Zotero Connector for your browser are available from the Zotero download page.
Add reference styles
In Zotero's menu select Edit and Preferences (Windows), Zotero and Preferences (Mac).
In the Cite tab select Get additional styles... and search for your preferred style.

Harvard UTS: search for "University of Technology Sydney – Harvard"
AGLC: search for "Australian Guide to Legal Citation 4th edition"
APA: search for "American Psychological Association 7th edition"
Chicago: search for "Chicago Manual of Style 17th edition (full note)"
Online guides