The Library provides various options for requesting resources when they are not available in the current collection. When ordering new resources, the Library will preference digital delivery as a more immediate and equitable form of access.
Requesting from other libraries
UTS staff and students may request to loan a resource from other libraries including books, book chapters, articles and conference papers. Resources requested from other libraries may take over 3 weeks to be delivered, depending on availability and location. The UTS Library may choose to purchase a resource for the collection rather than supply it from another library.
Conditions of loans from other libraries
Late returned, damaged, or lost resources may incur fines and replacement fees.
Resources on loan from other libraries are subject to recall.
Loan periods and renewals are specified by the lending library and borrowing times may vary.
Resources on loan from other libraries do not automatically renew.
If you have questions or need further information about requesting resources from other libraries, contact the Library.
Submitting a resource loan request
If a resource is unable to be located in the UTS Library catalogue, sign-in and search beyond UTS Library to expand your search and request from other participating libraries.
Once signed in, complete a catalogue search.
Select search beyond UTS Library at the top of the search results. (Click to enlarge images).
Submit your request by:

Physical resources: specify the volume (if known) and add any notes. Select Send.
Digital resources: specify the required chapter/article details, for whole books, leave the fields blank. Check the copyright acknowledgement and select Send. 
If the preferred resource is not listed, select Still didn't find what you need? Click here to send a request at the top of the search results. Complete as many fields as possible and select Send Request. (Click to enlarge image).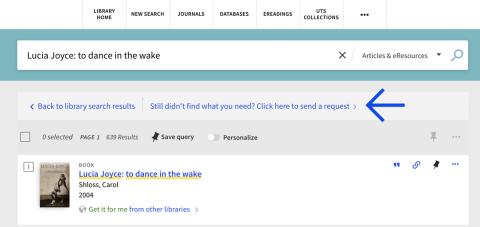 Reading List items
Request for subject resources can be made directly from Reading Lists using tags. The Library operates under an e-preferred model - see the Collections development and management guidelines for details.
Purchase requests
For resource purchase requests that are not subject readings, staff, researchers and students can make recommendations for new purchases to be added to the collection. The status of Purchase Requests can be checked in MyLibrary. Print items may take up to 6 weeks to be delivered to the Library.
New journal/package subscriptions
Given the limited capacity to commit to new subscriptions, any requests for subscriptions are reviewed within the context of the current collection as well as the subject/discipline area covered.
To request an ongoing subscription, contact the Library.