To assist you in advising your students about the ethical use, referencing and acknowledgement of generative AI (GenAI) in their assignments, the Library has created a Generative AI study guide that can be embedded direct to your Canvas site. 
The Generative AI study guide covers key aspects your students should be thinking about if they are using GenAI in their assignments, including: 
considerations when using GenAI 
types of GenAI 
ethical use and evaluation of academic integrity 
referencing and acknowledging GenAI 
additional support for researching, referencing, academic writing skills and academic integrity for assignments. 
Embedding the Generative AI Study Guide into your Canvas site 
The Generative AI Study Guide can be embedded in Canvas on a standalone page (recommended) or on a page that already contains other content.  
To embed the Generative AI guide on your Canvas site, follow these steps.  
Select Edit from the page you wish to include the guide on. 
Place your cursor in the location you wish to insert the guide. 
In the Edit menu locate the Apps icon.

Select Library Study Guides from the Apps drop-down menu.  (If you do not immediately see this option in the list, you may need to first select View All to locate the app.) 
Select Full Guide from the drop-down menu under Content Type. 
Select the Generative AI guide. Leave the Guide Page blank to embed the full guide.
Select Embed Content and Save to finish embedding the guide to your Canvas site. 
Your Canvas page will now have the full guide or single page of the guide embedded directly alongside your subject content for students to access quickly and easily.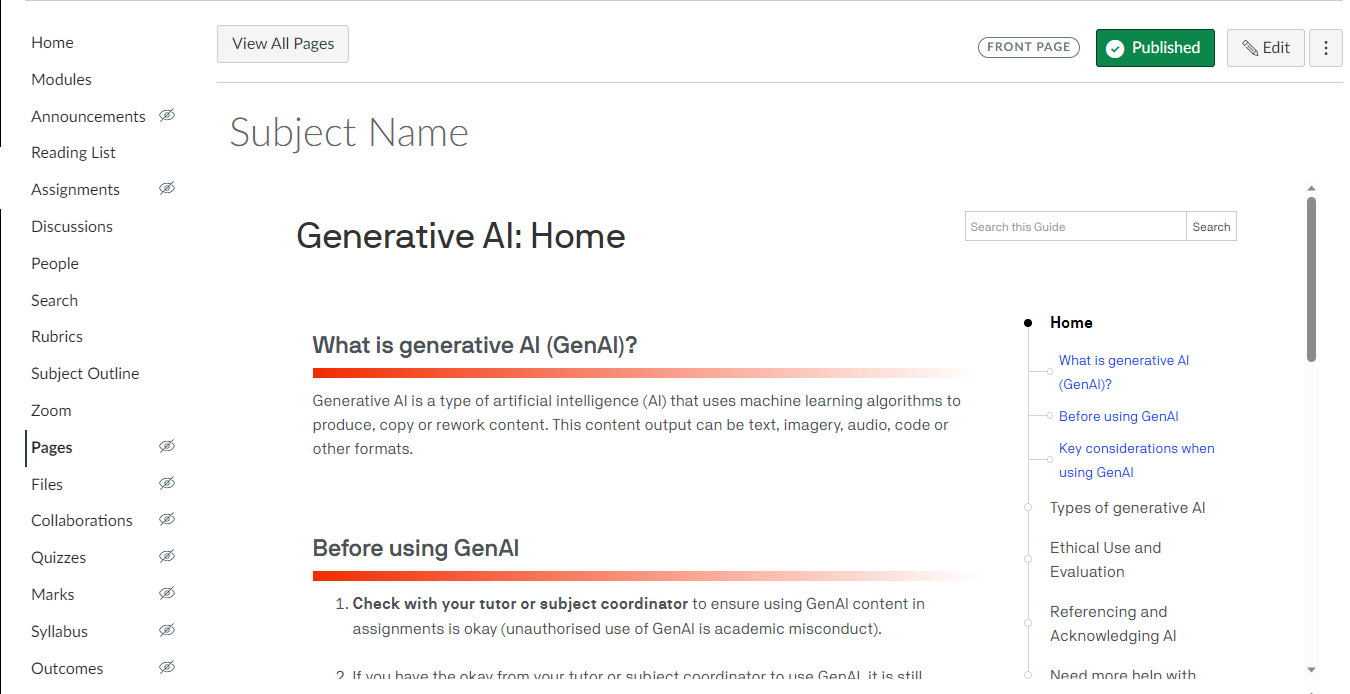 Get help  
For assistance embedding the Generative AI study guide in your subject site, consult your faculty librarian or contact the Library.