Last updated 16/10/2023
To help you prepare for and go well with your exams and end-of-session assignments, the Library and Student Learning Hub have additional study spaces, snacks and exam support for you through Stuvac and the assessment period.
Find your place to study
From Monday 6, November spaces across UTS Central will be dedicated to quiet study during StuVac and the exam period.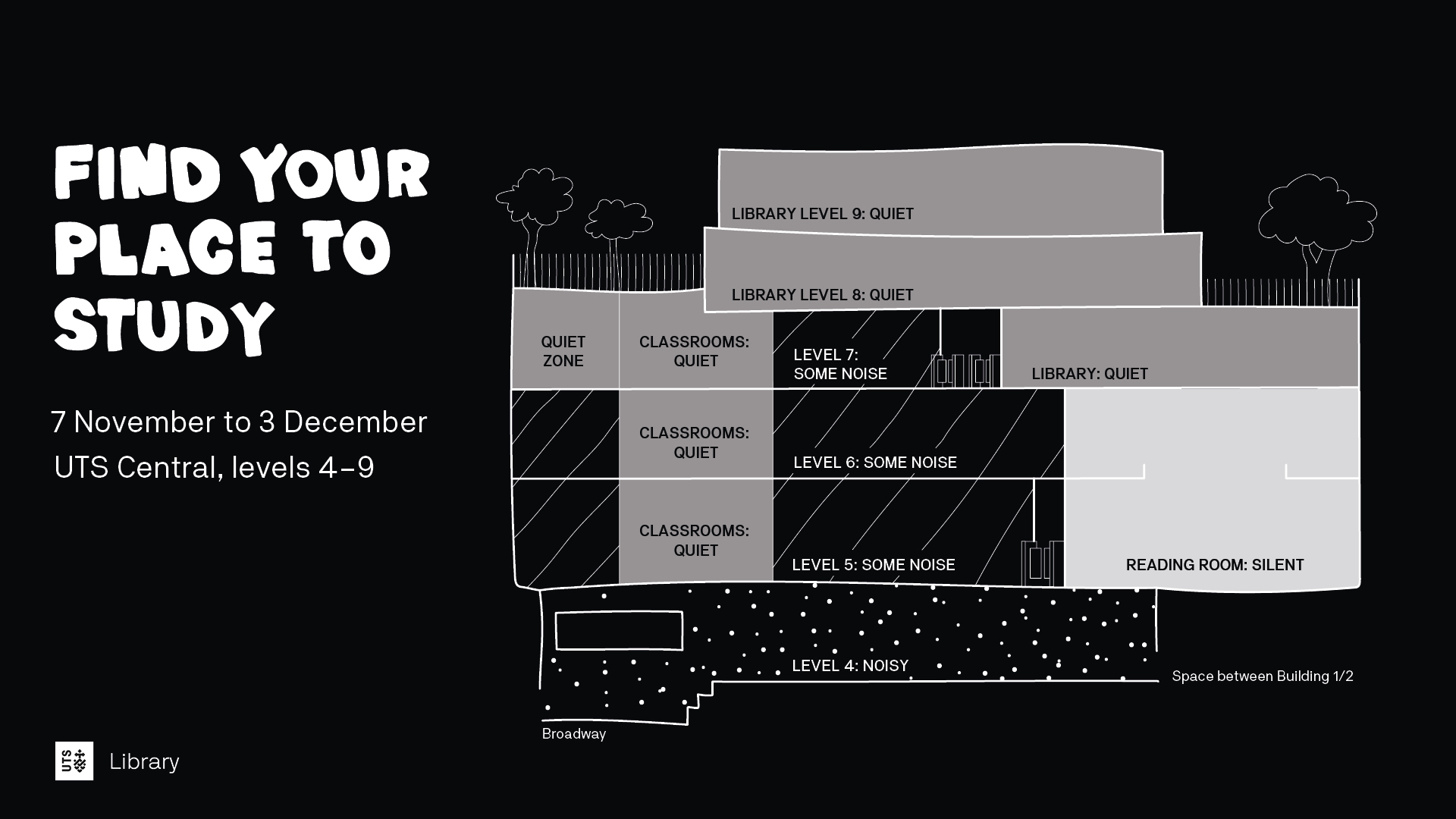 This means there are more spaces available for quiet and group study including:
UTS Library, levels 7-9 for computer access and quiet areas

UTS Central level 7 informal study area for quiet study

UTS Reading Room, level 5 for silent study

UTS Central levels 4-6 for collaborative and group work
Building 5A where you'll find cosy low-light desks areas as well as a range of group and individual spaces perfect for distraction-free study!
Additional collaborative classrooms opened across levels 4-7 from Tuesday, 7 November to Sunday, 3 December
CB02.05.150 (large collaborative classroom)

CB02.05.290

CB02.06.150  (large collaborative classroom)

CB02.06.290

CB02.07.150  (large collaborative classroom)
Spaces to take invigilated exams and exam-related questions
The spaces listed above are not suitable for sitting online exams.
Limited spaces are available to complete centrally conducted exams on-campus for students in exceptional circumstances. Speak to your subject coordinator for more information and to make arrangements if this applies to you.
If you have any issues on the day of your exam, see an Exam marshal at the Student Learning Hub (UTS Central, level 4).
Exam marshals will be present weekdays from 10am to 4pm staring from Monday, 13 November to Friday, 1 December. 
Help when you need it
For answers and support during the exam period.
Prepare with a workshop
Put your best foot forward for exam-time and book into a workshop.
Including:
Tips and advice for managing exam and assessment anxiety from the experts at UTS Counselling.
A HELPS workshop to help you unpack exam questions and the best strategies for revising.
Refuel with free snacks
Collect your FREE snacks and exam survival supplies to help you stay energised and fully stocked as you study.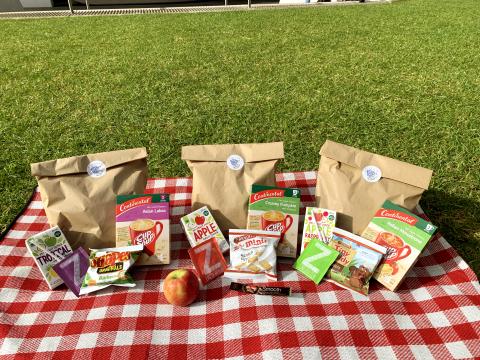 Think tea, biscuits, taffy, healthy snacks, stationery and you can even grab yourself a set of earplugs to help get you fully in the study zone! 
Pick up your exam survival supplies:
between 8am to 10pm, at UTS Library, level 7 throughout StuVac and the exam period
between 12pm to 2pm on Tuesday 7 and Thursday 9 November from the Activate Wellbeing Reps - just look out for the pink shirts across Buildings 1, 2, 11 and the Alumni Green!
Take a break from study to recharge
 Take some time to zone out and relax between study and exams.
Recharge your device at the Student Learning Hub while you complete a puzzle, game or some mindful colouring-in or plaster painting.

Recline with a book at the UTS Street Library on level 7 of UTS Central overlooking Broadway.
Kanopy and cuddle … pick from hundreds of contemporary film, TV, and media resources on Kanopy and Informit EduTV available from the Library catalogue.